About Tech-Schools.us
Our goal is to help you find a technical school in your area. Click here for browsing tips, suggestions, and recommendations or quickly jump right into your search by clicking on your state below.
AL, AK, AZ, AR, CA, CO, CT, DE, DC, FL, GA, HI, ID, IL, IN, IA, KS, KY, LA, ME, MD, MA, MI, MN, MS, MO, MT, NE, NV, NH, NJ, NM, NY, NC, ND, OH, OK, OR, PA, RI, SC, SD, TN, TX, UT, VT, VA, WA, WV, WI, and WY
Note: Many of the schools also offer online programs.
Contact
Please contact us with questions, comments, or corrections regarding the information presented on www.tech-schools.us. However, if you have a question about a partucular school's program, then it is best to contact the school directly through the links we provide to their website.

Disclaimer
The information contained on this website is intended, but not promised or guaranteed to be correct, complete or up-to-date. The information on this site is based on January 4, 2012, data published on the National Center for Education Statistics website. The information on our site is provided "as is" without warranty of any kind, either expressed or implied.
Privacy
It is our policy to hold personal information submitted to our website, www.tech-schools.us, in strict confidence. However, if privacy is important to you, then you may want to read the privacy policies of the various school websites we link to before submitting any personal information to them.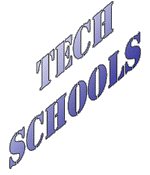 Find Tech Schools
(Listed by State)
About Tech-Schools.us
(Contact - Disclaimer - etc.)